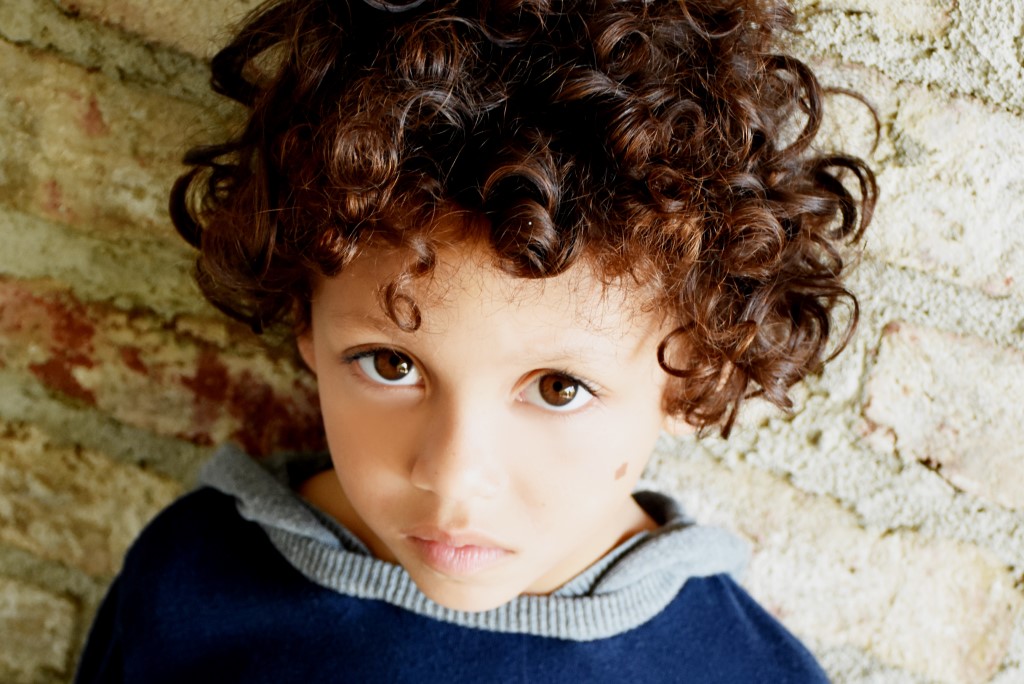 I imagine most parents of special needs kids go through brief periods of relative bliss. Like life is "normal". Like your kid is "normal". Whatever your normal is. Like things are humming along just fine. And then, due to this gift of distraction from reality, you lose your edge, take your eyes off the road in front of you, brake too late, and slam into the back of a semi truck. That's pretty much how I would describe our IEP meeting at Zeke's school yesterday. I walked in thinking we had this school thing all figured out and I walked out feeling like I had no clue and perhaps I need to be back in kindergarten too.
As I've talked about before, Zeke is in public school and our girls are home schooled. It has proven to be the best situation for Zeke at this point in his life (the best situation for all the kids actually). And God has been more than gracious in who He puts in Zeke's life and who He keeps out. We are grateful for each and every one of his teachers and paras and therapists. Even when they deliver hard news, which they like to couch in the middle of happy news. That's called sandwiching for those of you who haven't written a parent – teacher conference. I used that tactic a lot when I met with parents, so it made me a little uneasy as the team started out telling us Zeke scored high in in some areas they tested. I mean, I know the kid is smart, so that didn't surprise me at all, but I braced for what was certainly coming next.
It's not that I don't know Zeke has challenges. I do. It's not that I don't know exactly what they are. I do. It's just that when you see them in black and white, staring up at you from a 20 page evaluation report, it is enough to make you want to break down and weep. Right there in front of the entire team that has been chosen to decide precisely how the next year is going to go for your son, down to the last .10 hour increment in his day. But you don't. Because you can't. Instead, you have to pull it together so you can advocate for him over and over again during the next hour, because for kids with FASD, you and your husband, if you're so fortunate to have him there, are often the only people in the room that know exactly what your child needs and how they can help him. You are the only ones who see that 20 page report as an indicator of life-long struggles common for people with FASD, not simply what your child might need in kindergarten.
So advocating for Zeke is what I've learned to do. And I do it without reserve or remorse. Because I love my kid and I want him to have the absolute best chance at living independently in this world as he can. But it's not easy, because the system that is set up to help kids with disabilities is not up to snuff when it comes to FASD. It just isn't. And that is absolutely ridiculous when we know that no alcohol is safe during pregnancy, not even a glass or three of wine. Further, given the prevalence of the disability it is clear there is a great need in our country for interventions and education.
A couple of weeks ago, I shared an article by Nate Sheets from Oregon Behavioral Consultation on Facebook that explained the inadequacy of our current medical and educational systems quite well. As I said then, this article provides a glimpse into this little known (or acknowledged), yet widely experienced reality of those with FASD. The reality is that those of us who do have help in any way shape or form, usually have it because of secondary diagnoses, not because of the primary cause.  Meaning we don't have help because our child has permanent brain damage caused by prenatal alcohol use; we have help because our child qualified for another disability that allows him/her to get help. And that is frustrating to say the least.
It means you are constantly explaining your child to every new person who comes into their life. It means therapists rarely have a good understanding of what your child needs, because to qualify for therapy, your child needed another diagnosis. So, on paper they have ASD or Apraxia of Speech, for instance. Those areas are targeted and those therapies are used. And for a child with FASD, that means therapy hits one area of need, while truncating many others. It means therapists and teachers may not understand the incongruity of IQ and academic scores being high, but functional scores being extremely low. Or take the example of receptive speech and articulation being well above average, but expressive language and processing barely hitting the charts. Unfortunately, the idea that a child with FASD is being lazy or obstinate often comes into play when working with him/her and in reality, those holes are a hallmark of the disability.
Further, it means getting a proper diagnosis of FASD continues to be difficult for many families. It also means getting an entire population of women to stop drinking during pregnancy continues to be an uphill battle, especially when wildly popular blogs like Scary Mommy continue to tell women it's just fine. Frankly, in our all-about-me culture, that goes over like hotcakes and the cycle continues. And that means more kids are being born every year with a disability that is 100% preventable. It means those kids are also at risk for landing themselves in prison (estimated at 50% of the population with FASD) or death at a young age due to suicide, accidents, or substance abuse, among other causes. FASD doesn't just affect the kids born with the disability, it affects all of us. Every single person.
I cannot allow myself to look too far into the future. I tend to pop in and out of online support groups for that reason. I'm extremely thankful for them and for the support they offer, but I cannot allow myself to dwell there. I know the statistics and I know the experiences of many who have gone before us, but I also know we have a big God and I whole-heartedly believe He is more in control of our son's life than all of that. However, I have to live in reality, lest I constantly find myself hitting the back of a semi truck. And that reality is, our kid needs help and he'll need it for a very long time. Yet, that help is once again limited by the limitations of the current systems in place to help those with disabilities.
As we came to the conclusion of our meeting yesterday, we were told our son would be placed into the service category of "Autism Spectrum Disorder". This is actually fitting for him, as he does fall into the parameters for ASD. However, he falls into those parameters most likely because he has FASD and the lines are extremely blurred as to where one starts and the other leaves off, which his evaluation team recognizes. Even so, I asked what other service categories were available to a student like Zeke according to MN protocols. What about those kids who don't qualify as ASD? The only other service category that would be available is Emotional Behavioral Disorder (EBD). That's it. There is no category for FASD.
The fact is, there is no service category that is broad enough to fully explain my child (or any other student with FASD) to any teacher or paraprofessional or therapist that looks at him on paper and needs to decide how to help him. There is nothing that is comprehensive enough to even get close to understanding the complexities of FASD for those who work with him day in and day out. And I haven't even mentioned the implications of FASD not being a billable category for insurance companies. Those are even more maddening. And that is simply wrong. And I don't know how to change it. Sometimes that is a bleak reminder of my vast limitations as just one mom in a very big world, but I have hope. Just as I fully believe God is in control of Zeke's life, I fully believe he can use me and the many, many others who are trying to fight this fight in whatever way He chooses.
So I advocate. I tell his team that they need to be careful when using terms like "Zeke needs to do blah blah blah" and realize that Zeke can't. It isn't that he won't. He can't. He wants to, but he can't. So meet him there. I know it has to be hard in a class of 25 kids, but please meet him there. I tell the one person on his team that has worked with kids who have FASD, "Thank you!" when he says that he knows what is learned one day may not be retained the next. Thank you. Thank you for getting it. Because that is one of the biggest struggles and so hard for educators to see. Yes, he is smart. Yes, his IQ says he can do whatever it is you ask of him. But he can't. I tell his speech therapist that "No, he doesn't remember he could hit his head on the desk if he tries to climb under it and stand up. And no, he most likely doesn't remember from week to week that throwing the cars will result in a consequence of not playing with them." He just doesn't. Over time, we hope for that, but he's showing you it's not there. Not yet. I tell them he will try to please you and he won't always show you how hard it is to do that. So, please meet him in the places where he can be successful and please love him well while he's there.