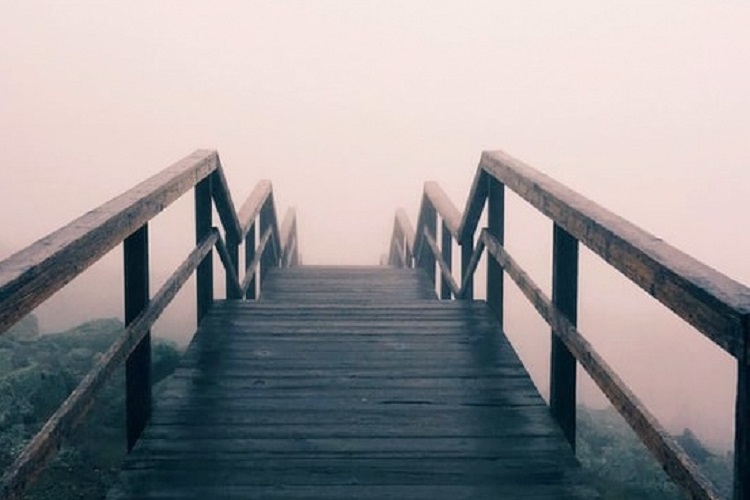 Several years ago, I was watching a popular talk show when the host introduced the author of a new book, The Gift of Fear. Although Gavin de Becker's topic was dark and sinister, it was necessary and the premise remains the same today. We've been given the ability to fear. It's wired into us. And when we're confronted with the thing we fear, we should listen to the still, small voice inside our heads that tells us to run, to flee. It's a gift and it's benefited me on more than one occasion. I've been followed. I've been approached. And I've been spared, perhaps due to the gift of fear and most definitely due to the grace of God.
But fear isn't just a gift that alerts us to situations which may bring us harm, in order to deliver us from them. I believe it can also be a gift in the midst of many situations, harmful or not, in order to drive us to the one, the only one, who can deliver us within them, not just from them.
For most of us, the past several months have been a constant test of what we truly believe about the goodness and character of God. Do we believe he's good when life feels like anything but good? Do we trust him to orchestrate our lives when every option we've explored seems bleak? For school, for work, for health, for well-being. With each passing day, our faith has been tried in very real, concrete ways, as well as in ways we might not have expected. Ways that lead us to question our understanding of God's word and our reliance upon it.
I admit I have fear. I go to bed wondering if my kids are going to be ok. If they're going to be permanently scarred from isolation. If they're going to struggle more through the teen years because they're missing out. I fear they'll be harmed. I fear for their salvation. I fear for their choices. I fear for this country. For it's future. For our own. I fear for my own purpose. For my dreams. For my relationships. For my continued adherence to God's word. I awake each day with those same thoughts hanging in my mind. Many fears. Many doubts. Many uncertainties.
Yet some days, it doesn't really feel like fear. Perhaps this is you. Perhaps some days it is that subtle realization that you're holding your breath, as a good friend of mine said. Waiting. Waiting. Anticipating the next thing that will rip the lid off of any semblance of normalcy you've managed to construct over the past few months. A normal you're desperately holding on to, as if it were your last tether to survival. Perhaps it's the weight on your chest that wakes with you each morning and reclines with you each night. Perhaps it's that feeling you can't quite shake, a subtle foreboding that your life will never be the same again. All the things you cannot name, but you're sure will destroy you and everything you love all the same.
And if I am on social media at all on any given day, I'll be told to have even more fear. I'll be confronted with all of the what ifs and what could happens. And if I choose to think a certain way about a certain thing, differently than another person, I'll be told my fears are unfounded; that I'm not trusting the Lord. And yet, I know the authors of those posts have fear too. They're calling out the people with whom they disagree and yet they're seemingly blind to what they fear themselves. Perhaps they fear government infringement on their liberty, their freedom. Perhaps they fear losing their personal autonomy. Perhaps they fear losing their job, the economic stability. Perhaps the ability to worship freely. Whatever it is, it's something, whether they're willing to admit it or not. And like the fears I've owned, their fears are valid and should be owned as well.
There is nothing inherently wrong with having fear. It is a gift after all. Something given to us by our creator in certain circumstances, for certain purposes. And yet, fear is something we must learn to rule. To reign in. To use to bring us closer to Christ and in line with his view of our lives and our eternity. We must learn the difference between living in fear and living with fear. It is a vast difference. And it is the difference between faith and disobedience; between belief and denial.
God's word is clear. Many times in Scripture we are told not to fear, not to worry, not to lose heart. We are told to trust. We are told God is sovereign, he is good, and he is our deliverer. Our conqueror. Our comforter. Our king. So we must learn to live with fear and not in it. We must learn to heed the voice of the one who beckons us in our fear. The one who can deliver us. The one who can give us his peace. And we do that by giving our fear over to him. We see it. We own it. We lay it down. And we believe his word over it.
Fear is a gift because it calls us to the Lord. It draws us to him. It tells us there is something we're holding on to, something we're refusing to relinquish, something we need to let go. To lay at the feet of Jesus. And leave. There, with our savior. The giver of all good gifts, including fear.
Pslam 23: The Lord is my shepherd; I shall not want. He makes me lie down in green pastures. He leads me beside still waters. He restores my soul. He leads me in paths of righteousness for his name's sake. Even though I walk through the valley of the shadow of death, I will fear no evil, for you are with me; your rod and your staff, they comfort me. You prepare a table before me in the presence of my enemies; you anoint my head with oil; my cup overflows. Surely goodness and mercy shall follow me all the days of my life, and I shall dwell in the house of the Lord forever. (ESV)