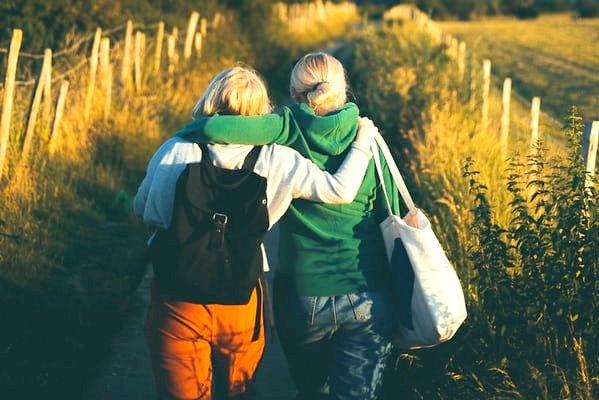 I was next in line at the Starbucks in Target. And as I was wandering a thousand miles away, thinking of events that had unfolded earlier today, the barista leaned over and said, "I'll be right with you, Brenda." She knew my name. More than that, she remembered me. I hadn't stood in that line in months, opting instead to hit up the drive thru on the way home from Zeke's school or church, lest you think my Starbucks habit is improving. Yet, she remembered. And that spoke volumes to my weary soul.
I really did not want to be there this afternoon. We were approximately 36 hours into 2020 and the new year was not off to a stellar start. Our oldest did not have the best birthday ever yesterday and I was working off of 4 hours of sleep due to our middle one getting sick in the middle of the night. Never have I considered burning the house down rather than cleaning up the mess, but I'll be honest, it crossed my mind. And then there was our trip to Costco earlier in the day, where a very large, very angry man on a scooter plowed into me at the entrance and yelled at me to get off my phone as I was frantically trying to tell the receptionist at Zeke's therapy center that no, I did not want her to take him off the schedule completely; I simply wanted to cancel one appointment. Clearly said man was not one for the logical conclusion that he was at fault, as he was, in fact, behind me and could have stopped if he so cared to do so. And then, there is my grandma.
She's dying. Soon. And I'm heartbroken. It isn't as if I didn't expect it. It isn't as if it isn't the natural progression of things. She's 97, after all. But, she's my grandma and I adore her.
I left my mom's soon after sharing the gospel with her again today, not knowing if it would be our last time together on this earth. Not knowing if she has saving faith in Christ and peace in death, but faithfully trusting in the goodness and mercy of our Lord whatever her future holds. So, Target was the last place I wanted to be. But as I stood in line at Starbucks, holding my heart in and trying desperately not to cry in front of all the strangers, Kim reached out and was a friend. I suspect she is a friend to everyone who stands in her line. And her unexpected kindness brought me joy in the midst of an otherwise unkind day.
The reality is, it doesn't take much to be a friend. A simple text to say, "How are you?" A quick, "What about you?" after we tell someone all about us. A remembrance of something a friend mentioned and a quick message to inquire or let them know we're praying. An offer to meet for coffee or lunch or a walk around a lake. Being a friend really is simple, and yet, it's becoming a rarity in our me-obsessed world. Too often we are conversational narcissists and thus, fail to put the interests of others above our own. Too often we are consumed with the day to day needs of our kids, our job, ourselves, that we neglect the very present, very real needs of those around us. No wonder so many of us experience deep loneliness in the midst of the most connected culture that has ever existed on this earth.
I'm not one for resolutions. Perhaps it's indicative of my overall failure rate, but I'm more the sort that thinks each day is a merciful new beginning. But if I were to resolve to do something this year, it would be to make less of me and more of those the Lord has given me. To be present and thoughtful and kind. It would be to be a good friend.