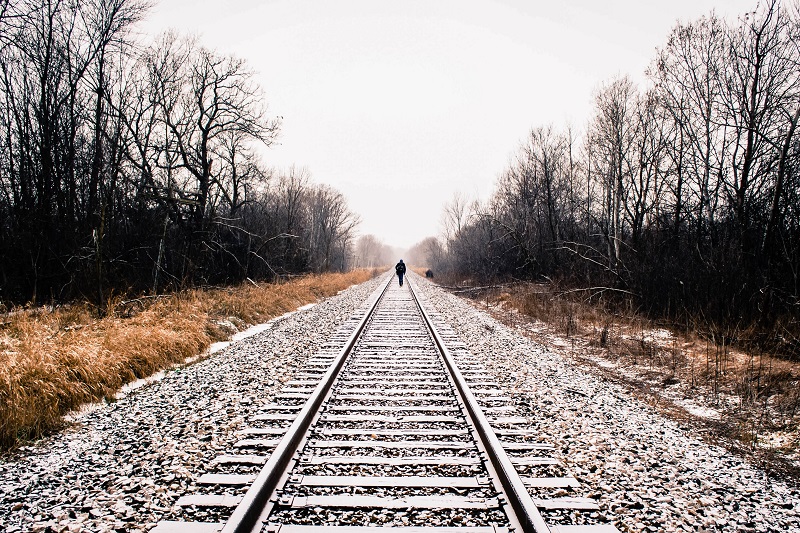 I walked into the intensive care room to see my dad lying in the bed. IVs and monitors with alarms sounding every few minutes. His complexion was pallid, grey. And when he awoke, I told him I was thankful he was still here. A stent had been placed in his artery after a blockage stopped his heart just a few hours before, and yet his prognosis was tentatively good. After many hours, many tests, and several medications, he was stable. They said he was lucky. I knew his time had not yet come.
I had prayed on my way to the hospital that day. A bit of a bargaining, admittedly. I told the Lord he could take my dad if he would save him first. And so, after expressing my gratitude, I expressed my desire for him to know Christ – to truly know him – to follow & obey him the rest of his days, whatever they are on this earth. It was the only thing that mattered in that moment. And as heartbreaking as it would have been to lose him, I knew I'd be ok if I had that assurance.
That assurance is what I sought when I sat with my grandmother two weeks later. She had stopped eating and drinking several days prior and we knew her time here was short. She could not hear well (that is an understatement and one that still makes me laugh), so I had to yell in her ear when I spoke. I told her the gospel in the simplest terms. The way I explained it to my kids when they were small. That Jesus is God and we are sinners. That our sin separates us from him. That he died for that sin on the cross and rose again. And if we love him, we get to go to heaven to be with him forever. She smiled and asked, "Oh really?" I smiled and said "Yes, grandma." And then she closed her eyes and I kissed her face. And just a few days later she was gone.
There are times in our lives when death is near. The ICU. The deathbed of someone we love. In those hours, death is at the forefront of our minds and a reality we must face. We cannot escape it. And it scares us. It renders us helpless. It controls our emotions. It floods us with anxiety. We're afraid, confused, uncertain.
It is uncommon that we will all face death together. Wars will do that. Natural disasters will do that. Global pandemics will do that. And so here we are. A tiny little organism the human eye cannot see is reminding us of how fragile we are. A virus has halted our daily lives. We have no immunity. We have no vaccine. We're at it's mercy. And we are scrambling to live within our new normal. None of us are very good at it, really, and some are truly scared. They're without assurance. They're without hope.
And it is here, in these early days of uncertainty, that we must remind ourselves of the truth: There is absolutely nothing outside of the sovereign control of our all loving God. The creator of all things. The sustainer of all things. The one who wills and works all things to his glory and our good. We are not at the mercy of this virus; we are at mercy of God. And it is under the wings of his mercy that we must learn to dwell.
In facing reality, we understand we have to face our own mortality. We will die. Our days are numbered by God and there is nothing we can do to escape death. But we can know what's next. We can have assurance. We can have peace.
This world tells us there are many ways to God. It tells us God is love and whatever path we choose is just fine. It tells us to follow our hearts and pursue our dreams. But God tells us something entirely different. God tells us, through his Word, the Bible, that the world is wrong. God tells us there is only one way to him and that way is through Jesus Christ.
God tells us who he is: God the Father, God the Son, God the Holy Spirit. He tells us that he made us. He says he created the world and created us in his image. He tells us it was good, perfect. Until we sinned. We all sinned through one man, Adam. And because of that sin, we were eternally condemned and separated from God. Because God is just and he is holy. But God is also love and because of his love for us, he didn't leave us to die. He didn't forsake us. Because of his love for us, Jesus came to earth to live a perfect life and die for our sins. The perfect sacrifice. The atonement. Grace. And then Jesus rose from the dead to conquer death, so we could conquer death through him and be reunited with him for eternity. Mercy. This is assurance. This is hope.
There are no "What ifs" with the Lord. Our entire lives are under his sovereign control. We do not need to fear microscopic viruses that can kill us or car accidents, or tsunamis or cancer or war. If we love God, we know our time on this earth is a shadow of what is to come. And what is to come is beautiful, glorious, eternal.
So for all those who are laden with heavy burdens, put your trust in him. His yoke is easy and his burden is light. His name is Jesus and he commands you to repent of your sin and follow him. Not just for heaven one day, but for your daily life today. He is not only a savior, he is the king, and as King, he requires you to obey. So, put your hope in him. Surrender your life to him. Open his Word and believe it. His love for you will bring you peace, not only as you face death, but as you live life as well.
All who are thirsty
All who are weak
Just come to the fountain
Dip your heart in the stream of life
Let the pain and the sorrow
Be washed away
In the waves of His mercy
As the deep cries out to deep, we sing…
Come, Lord Jesus come
(lyrics by Kutless)