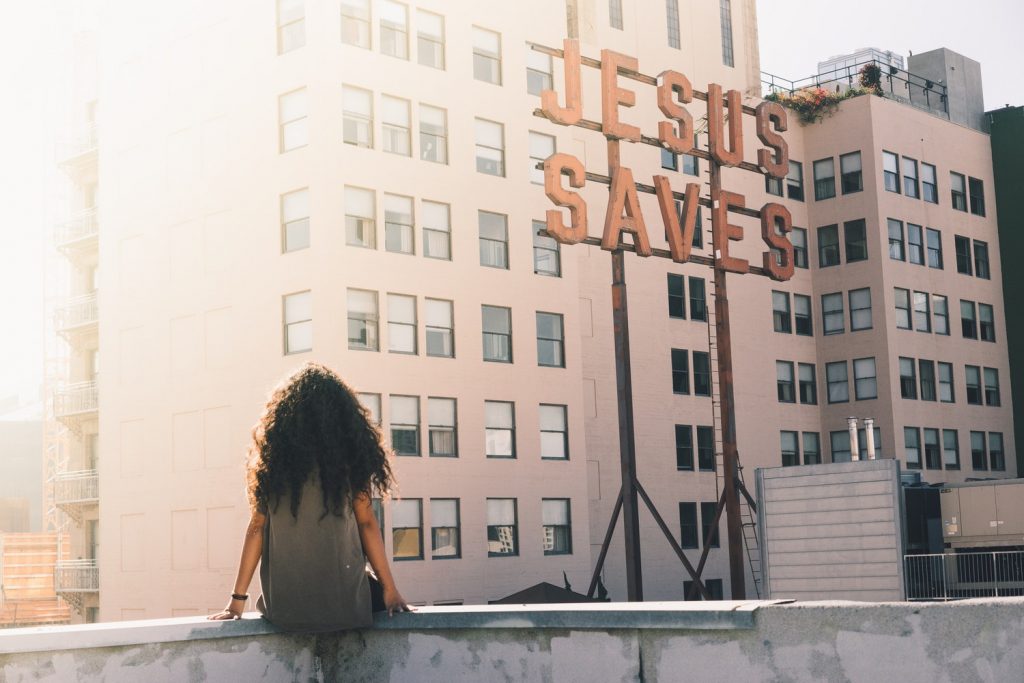 It would come in waves, this feeling of darkness overtaking me. I would lie in bed, deep in sleep when I felt it covering me, like a heavy hand, pushing me, sinking me, deeper and deeper into an abyss of blackness. I knew whatever it was, whatever was trying to smother me, was evil. And I knew I needed to fight with everything in me to escape it. So I fought to wake up and when I did, I'd be covered in sweat, my heart beating out of my chest, with a fear so intense I could only whisper the name of my Savior. But whisper I did and eventually, my heart would calm, peace would come in and sleep would return.
It was a spiritual fight, most definitely, and one that lasted for months. And it was a mirror of the fight we are now facing in our culture. One that is also coming in waves, with the next wave looming larger and approaching more quickly than we are able to recover from the last. One that is seeking to destroy our faith. To destroy our families. To destroy our children. And at times, this fight feels as oppressive as the one in my sleep and I feel as helpless in defense.
Joni Eareckson Tada said, "And gradually, though no one remembers exactly how it happened, the unthinkable becomes tolerable. And then acceptable. And then legal. And then applaudable." I have lived almost a half century now and I concur. I don't remember exactly how it happened, but I do recall the hints of its beginnings in my life. It was in the wake of the second wave of feminism and I was a young girl being raised in a society that believed women were above motherhood and fathers were allowed to walk away. And I, ever longing for significance, was most certainly going to be someone important. As I went through high school and then on to undergraduate and graduate degrees, the messages from the culture far outweighed the truncated view of Scripture I was receiving in church, and I was hooked. Eventually, I bought into every argument against traditional family values that was presented to me, without discernment on whether societal norms were even for my good or the good of those around me. I celebrated gay pride with my homosexual friends. I championed no-fault divorce if people were unhappy. I co-habitated with my boyfriend because marriage was so passe. I thought abortion was a woman's choice to choose. And I viewed children as burdens I'd never want for myself.
At the time, I thought I was the epitome of progress. In retrospect, I was a professing "Christian" who was truly very lost. And after several years, I expected to be happy. Instead, I was struck with the reality that what was promised by the culture I followed, was no where to be found. I was not fulfilled. I was not liberated. I was a slave to the life I had created for myself and I was empty. Miserable, actually. It was then, in my late 20s, that the Lord saved me. And I finally realized what he had been telling me through his Word all along. That it is only in him that we will find our identity. It is only in knowing his Word and living in accordance to the beautiful precepts therein that we can be happy, fulfilled, content, free.
The trouble is, we are living in a secular society that hates God and hates his Word. Truly, there is no neutrality, no middle ground. And I can see what that hatred did in my own life and it continues to play out in the lives of so many others in our culture today. All in the name of progress. All in the name of love. All in the name of tolerance, acceptance. All in the name of living on the right side of history. With an end goal of destruction. And the target is the family.
And it's coming like a tsunami now. It is a daily onslaught. What once was a slow erosion is now a landslide.
From unhappy marriages and no-fault divorce, to men not being men, to women living off the state to care for the children who were abandoned. From women hating their calling as mothers, to women killing their children in the womb, to allowing them to die after their pre-birth attempt fails. From approving same-sex relationships, to gay marriage, to lawsuits against those who don't agree with you, to legislation against "conversion therapy". From destructing cultural gender norms, to rapid onset gender dysphoria, to school counselors vilifying concerned parents, to doctors promoting what was once a mental illness, to drugs and surgery to mutilate young bodies. From teaching reproductive health, to providing condoms and birth control to children, to comprehensive sex education promoting sex at any age, with anyone, as long as the child consents. From celebrating gay pride, to drag queens reading to toddlers at the local library, to children in drag dancing at gay bars, to those children in photo shoots with naked gay men. From doctors requiring children to answer questions about their sex life at age 12, to separating children from parents during exams, to preventing parents access to their child's medical decisions, to removing children from the home. Physician assisted suicide, mandatory vaccinations, attempts to subvert homeschooling through state supervised home visits, the commodification of children through surrogacy, and I could go on.
I am aware I sound like an alarmist. Five years ago I would have thought I was insane to lump all that together as reality. But that is our reality. All of it has occurred or is occurring, or has been proposed as legislation at the state or national level. Every single one of those issues seeks to destroy what God has created as good. Every single one is an assault on the family as a whole, and on our kids in particular.
Because if the family is destroyed, society as we know it will fall. And that is the goal of those who hate God and wish to erase every trace of him from our culture. Because God as father represents all that they hate. That is the goal of those who worship self and believe we have value only if and when we say we do. That is the goal of those who want to deny the way they were created. But there's a problem. They have been created in the image of God and thus, they need family. They need nurturing relationships. So they redefine family and create communities that support what they believe to be true at any given point in time. And instead of falling on their knees before ultimate truth, they bow down to their cultural gods and give up their autonomy to those who promise to take care of them. And demand the rest of us do the same. So here we are.
It is disheartening to write letter after letter or make phone call after phone call into a black hole of callous disregard for human life or decency. It is sad to read the notes on legislative sessions where only a few voices were heard upholding the goodness of God's standards. It is frustrating when those voices are drowned out by the masses who mock them and the laws that are enacted to silence them. But, as Christians, we cannot lose heart and we must stand firm upon the truth of God's Word.
I once lived in the same darkness I fight against in my dreams at night. I once believed that world was right. I was once deceived. It is only by the grace of God that I was changed and it is only through salvation in Christ that we will see our society change. So we must pray the gospel will transform hearts. And in the meantime, we must fight. We are to fight this evil, both in the heavenly places through prayer and in the marketplace and in our legislatures, through our words and actions. There is a very real spiritual darkness here and there is also an overwhelmingly powerful physical reality with which we must contend. So, we cannot remain silent. We cannot retreat. We cannot pretend it does not affect us in our Christian community. And we have to remember that we are the ones living on the right side of history. It is our King who has already won.
7 The works of his hands are faithful and just;
    all his precepts are trustworthy;
8 they are established forever and ever,
    to be performed with faithfulness and uprightness.
9 He sent redemption to his people;
    he has commanded his covenant forever.
    Holy and awesome is his name!
10 The fear of the Lord is the beginning of wisdom;
    all those who practice it have a good understanding.
    His praise endures forever! 
Psalm 111:7-10