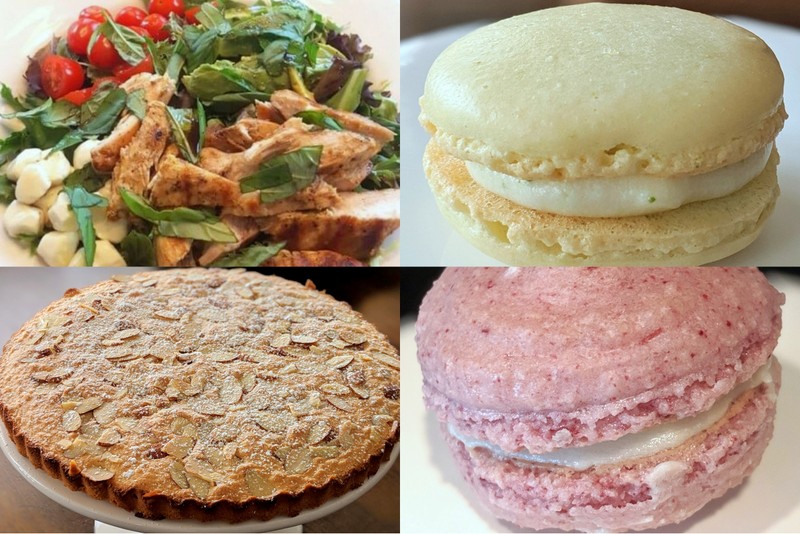 I could never be a food blogger. First off, I don't have the desire to perfect everything I make, at least not well enough to take photographs and lay out a step-by-step guide to making it amazing. I am more than happy to let other, much more talented folk do that for me. Then there is the simple fact that I just can't picture myself saying things like, "naan is life" and actually meaning it, like I saw on a popular food blog recently. I mean, if naan is life, we have a serious problem, don't we?! But I do appreciate a good recipe and I most definitely love to create.
In my church's summer book study this week, I was reminded of how the Holy Spirit works in creation. It struck me that we are to emulate Him in our work, while relying on Him to do that work in us. It's an essential part of how we were created. It's a mind blowing cyclical process, really, by which the Holy Spirit makes all things beautiful, including us. Perfecting us through sanctification –  a process that will never be complete this side of eternity – so that we are beautiful in His sight and are fruitful in creating beautiful things for His glory.
We are all creators by nature, as children made in the image of God, the Creator of all things. And what we create is made beautiful by the Holy Spirit's work within us. All of us. If we cook or bake or draw or paint or write or design or tell stories or hold babies or play sports or work in any vocation, we create. How amazing that our God has given us a taste of Himself in this and that we can find joy in the very thing He does best.
One of my very favorite places to create is in the kitchen and my favorite season is summer. I love hot temps and sunshine, and even on a day as hot as humid as today, I will not be complaining, because summer is too short around here and winter is always coming. So, since summer is too short and the kitchen essentially is just a creator's playground, I thought I'd share just a few favorite recipes that capture the essence of the season for me. I would welcome you to do the same. As someone who used to literally collect cookbooks and cooking magazines by the dozens before the digital age, I'd actually love for you to do the same. New favorites are always a good idea around here.
I think you'll find the best thing about these recipes is how easy they are (except for the macarons, of course. They are never easy, which is why that job goes to my daughter.). If you have ingredients on hand, plan to prep in the morning before you head out, you are free to enjoy the day with your kids or your day at work and throw it all together within a half hour when you get home. Big bonus in my book.
Lime Chicken Caprese Salad. I started making this deliciousness last summer and it quickly became a favorite. I love it will parmesan cheese as well as the mozzarella. Maybe even more so. We often double the chicken and eat it for a few days, pairing with other vegetables when we aren't in the mood for salad. Summer squash and red potatoes with rosemary are an easy standby, but the choices are as numerous as whatever you can find at the farmer's market or grocery store. If you're a wine lover like we are, my husband's review is for a nice Viognier, but it goes well with any white or rose, so pick the one you prefer and enjoy.
Grilled Chicken and Mint Kebabs. My love for this recipe is what prompted me to try growing our own mint this year, as well as basil, cilantro, rosemary & oregano. I'm hoping the herb garden produces enough to make this at least once. It is the perfect choice for a large dinner party or a small family meal with the aim to have left overs. Just double or triple or whatever the amounts here and you're good to go. Maybe it's our love for olive oil, but I've found that most recipes do not use enough, especially when they call for the grill. So, definitely double that and plan to use some extra in the marinade, as well as more to brush on while grilling.
The kebab recipe calls for a Greek salad as a side, but since my husband isn't a super fan of those ingredients, I prefer to pair it with something else and this Strawberry Avocado Salad is a frequent choice over here. You most definitely do not need the sugar in the dressing, so cut that out and just use honey. And use more lettuce or cut the dressing, unless you like a drippy salad, which I do not. Also, the dressing is super versatile, so feel free to use it on pretty much any salad you'd like from now on, adding apples or sliced almonds or dried cranberries or whatever else suits your taste.
Almond Cake. A few months ago I was looking for an easy gluten free recipe, came across this one, and was quite excited when I realized I had everything to make it on the spot. It has just 5 ingredients, so you probably have it all too, and if you don't have sliced almonds, skip them; they aren't essential. It's also easily made Paleo by subbing the sugar and skipping the powdered sugar, which I do anyway. It's light and delicious and pretty too. What more could you want in a dessert?! Ok, chocolate. Me too.
Lemon, Lime and Raspberry Macarons. But not together.
Our 11 year old daughter, Genevieve, is the resident macaron maker in our house. We gave her a French name just for this purpose. Not really, but she does live up to it quite often. She began learning the art last year and I am doomed. Seriously. They are so delicious. This summer, she has made both Raspberry and Lime and they are quintessential summer. Light and fruity. Sweet, but not overtly sugary. Divine.
First off, you will need a food or postage scale to weigh the egg whites in grams. There is no way around this if you want your macarons to look like macarons. For the lemon macarons, she followed the recipe directly. For the lime, she used the lemon recipe, substituting lime zest and lime juice for the lemon and green food coloring for the yellow. Just a couple of drops of food coloring is all you need for all of these.
For the raspberry macarons, she followed the recipe for the shells, but skipped the white chocolate raspberry buttercream. She made her own buttercream instead, piped a circle of it around the bottom of the shell, and filled the middle with raspberry jam. It was the perfect combination of sweet and a wee bit tart. We do not live in a climate suitable to lemon or lime trees, but raspberries we can grow by the bucket loads. So if you're fortunate to have fresh ingredients in your garden, make the jam yourself. But if not, Bonne Maman is the best. French, of course.
That's all for now! I hope you come to love these recipes as much as I do. Please share some of your summer favorites below!