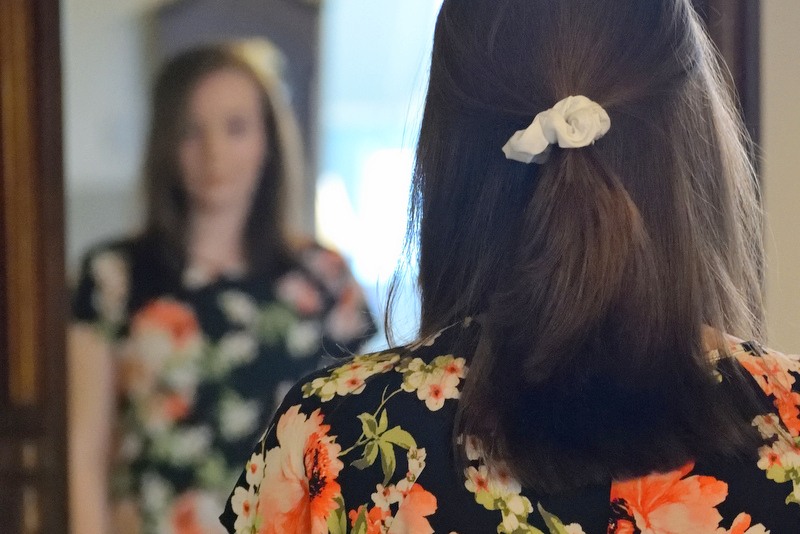 I can't say I've ever been comfortable in my own skin. Not because it's pale and blemished, which it is, but because it's covering me. My body. And when I look in the mirror I've never had a fully healthy view of the body that is staring back at me.
I imagine it began when I was little and chubby. Like that amazing baby chub I loved on my girls and tried desperately to replicate on my son, to no avail. That chub that tells you they're fine and you're on the road to doing something right as a mom. That chub that means they can stand to lose a few pounds and a bout of norovirus isn't going to take them down. That chub that my dad used sing a little tune to, one I still remember to this day. "Fatty fatty two by four, can't get through the kitchen door."
Now before you think ill of my dad for that little ditty, he didn't mean anything by it, really. It was his way of teasing me. And teasing was his way of connecting. But as I got older, I didn't take it that way. And by the time I was no longer a chubby toddler, and he was still singing the song, I internalized it more than I should have and developed a completely wrong view of myself.
It wasn't just that silly little song, of course. There were other reasons too. This was the 1970s and early 1980s, back when weight meant everything and there were no distinctions between healthy and unhealthy pounds. This was also back when we were weighed in the nurses office in elementary school. In a group with your weight displayed for all to see. And I was hands down always heavier than all of the other girls in my class. I wasn't bigger than them. I've never been big. But I was heavier and that mattered.
It didn't matter that the reason I was heavier than my peers was body type. A body type that crushed the girls in the 50 yard dash and shut down the boys in the flexed arm hang on field day. But I only saw this muscular body type as a hindrance, not an advantage. You could say I was focused on fashion, not function. And when my muscular calves didn't fit into the tall boots – or the skinny jeans that came along years later – I didn't appreciate the strength the Lord gave me as much as I lamented the fact that I wasn't a waif like my friends. Or like all the models in the teen magazines I devoured every week.
And on it went. As I continued to struggle with body image in high school, I developed extremely poor eating habits that briefly (thank the Lord it was briefly) led to bouts of bulimia and using diet pills to control my weight. To have the ideal body. I exercised with that one goal in mind. I ate with that one goal in mind. And if I occasionally overate, I purged. I was in a dichotomous cycle of wanting nothing to do with my body and obsessing over it at the same time. A cycle that would last into my mid-20s, when I started researching nutrition and exercise. From there, I slowly developed a healthier way of eating and began to appreciate the body I've been given. I started to care less about weight and more about strength. I started to see food the way God means for us to see it; as a good gift to be enjoyed wisely.
Moreover, and I would say more importantly, I started to see my sin in it all. My preoccupation with self and my unbiblical ways of thinking. God graciously started chipping away at the idols I had set up in my heart and turned me from them to the goodness only found in Himself.
But learning to love what God has given me has been a life-long struggle. Even now, 20 years into the right side of that struggle, it's still there. The constant weight loss ads in my feed. The posts by friends selling one nutritional supplement program after another. It's always in the back of my mind. And it's at the forefront of my thoughts when I talk with my girls about their own eating and exercise habits (or lack thereof). As their mom, I am passionate about teaching them to love the body they've been given. To eat and exercise for the good of that body. And to be comfortable in their own skin.
Others may say I'm wholly unqualified for such a task due to my own lifelong struggle. On the opposite side are those who say there is no one more qualified to speak on a topic than someone who has wrestled their way through it. But, I tend to disagree with both of those assertions for the same reasons I believe all Christians are called to speak into the lives of other Christians. It boils down to the fact that I am their mom and therefore, called to be their teacher. And God's word has much to say on food and how we are to think of ourselves.
So, I have walked the tightrope of talking about healthy eating and exercise with caution, but also with boldness. A tightrope because falling off into one ditch or the other is extremely easy. And while I've been cautious and careful, I've done so many times I'm sure. But with boldness because if I don't teach them, the world will. Just as it taught me, and I don't want that for them. I'm far from an authority on the topic, but I've tried to focus on a few things that I hope will be useful to them as they grow and mature and move out of our home. Things they'll remember as they make their own decisions about their health throughout their lifetime.
First, the Lord. He gave them the body they have. Healthy. Strong. Whole. Their job is to take care of it through eating healthy foods and exercise. Nothing crazy needed. Not even a gym membership. Just basic, get off the couch and use what they've been given. Because what they've been given is a gift and the benefits of youth are fleeting. But the consequences of choices can last a lifetime, and unhealthy patterns of thinking or eating now will be extremely hard to break later. Most importantly, above all else, they are to strive to find their identity in Christ, not in their body image. They may be small people or they may be larger people. That does not matter. What matters is their heart towards food and, above all, their heart towards God.
Second, healthy food choices. To our great benefit, we are far from the ideas of my youth. Calories are not all equal and our bodies process protein, carbohydrates and fats vastly differently. So the focus is on eating good fats and protein. Limiting sugar or foods that immediately turn to sugar. Drinking water. Eating when they're hungry not when they're sad or anxious or bored. Understanding that nothing is off limits, but all things should be in moderation. Also, understanding our bodies need and use food differently throughout our lifetime: A woman who is done growing cannot eat the same number of calories as a teenager in a growth spurt if she wants to fit into the jeans she just bought last month. It's simple cause and effect. And, just as importantly as everything else, food is a gift to be enjoyed.
Third, honesty. I'm honest about my own struggles. About the choices that I made in high school and college to eat an unhealthy diet and the affects that has had on my health later in life. I'm honest about my hunch that several lunches of large mochas and an even larger cookie half dipped in chocolate most days of my graduate program most likely contributed to triggering an auto-immune disorder in my late 20s. Inflammation loves sugar, after all. I'm also honest about the struggles of others and how our nation as a whole is in a health crisis because of food and the affects of unhealthy eating, often brought on by the hunger of the spirit, more than the hunger of the physical body. So many have the same struggles and I want them to know the truth about the roots of that hunger and how they can avoid its tempting snares.
I'm still learning to be comfortable with me. I often wake up in the morning and spend the first few minutes thanking God for my legs that carry me where I want to go. Thanking him for the joints that are stiff and painful, but function well. Thanking him for muscular frame he gave me that is upholding those joints as they deteriorate year after year. My hope is my girls never think of themselves the way I did for so many years and am still prone to do today. My hope is they are free from anything other than confidence in Christ when they look in that mirror. My hope is they are free from the sin of idolatry that got me there.