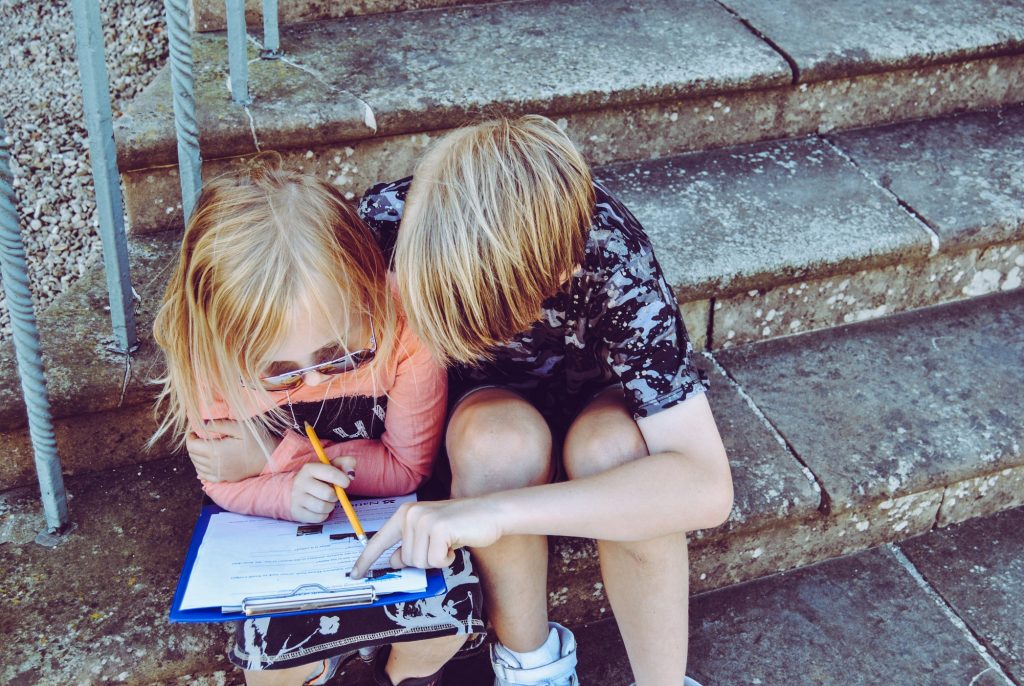 I'm not a conspiracy theorist. QAnon? Nope. Iluminati? Nope. Chemtrails? No. The CIA listening to everything I have to say? Definitely not. However, my phone does seem to know everything. And the Olympic vs. Titanic one has me thinking. But, overall, I take things as they seem and if it looks like a duck and quacks like a duck, it's probably a duck. That's just me. So I hesitated writing my thoughts on the events of this past week because in an odd way, they made me feel like I was buying into some vast conspiracy. But I don't think so. I think it's much more basic than that. Much more Genesis 3. And Romans 1. Age old sin and rebellion against God's good design.
A couple of days ago, I shared a photo on social media of a form our 13 year old daughter was asked to complete at her pediatrician's office. She was asked to tell them all sorts of intimate details about her life, such as mental health habits, drug and alcohol use, sexual activity, sexual preferences, etc. 58 questions. Very specific. Very detailed. Very inappropriate for a child her age to even see, much less answer. Some of my social media friends have experienced the same or similar at their doctor's offices, generally the larger medical groups in our area, and have been equally uncomfortable and appalled.
At this same visit, I was asked to fill out a consent form stating I'd leave the room during my daughter's exam. I politely said, "No, I will be staying with my child," and the gal at the front desk looked at me like I had 3 heads. Her tone of voice matched her eye roll as she removed the form and said, "Ohhhh-kayyyy," in exactly the same voice you imagine. She then stood up, reached over me and handed my daughter a covered clip board that included the above form and told her to fill it out. We sat down and my daughter handed it all over to me, asking if she had to do what the lady said. After reading the form, I told her absolutely not.
I was livid, but held it together enough to calmly explain to our pediatrician exactly why I would not be leaving the room during any of our visits and exactly why I didn't feel such forms were appropriate. She completely agreed, but as she spoke about being thought of as "backwards" and "oppressive" if she didn't suggest that parents leave the room and ask kids these questions, I got the feeling there was someone / something else driving the train. She explained that she was pressured by her colleagues in the same way I as a parent was pressured by the gal at the front desk. In the spirit of giving the practice a fair shot before we announced our exodus, I decided to call the clinic supervisor to sound my concerns. My goal was really to see who made these decisions. After all, if our doctor who has been there forever isn't on board, who has the control to override her?
Turns out, it's a group of 50 doctors who make the decisions around there. They are governed by other entities I was not privy to know about, but was assured all have deemed this form and others like it perfectly fine and necessary for kids. They have also determined parents should be encouraged leave the room so kids are more honest with their answers. Their belief is kids at 13 and up need this information and are encouraged to be autonomous in making medical choices. They believe they are the ones to best help them do that. I quite passionately let her know I disagreed. Poor gal.
Here is where it lands for me: Parents need to leave because parents aren't as wise as doctors and it's natural for kids not to trust them. Period. And that is where it feels conspiratorial. Like in all the Disney princess movies where the parents are dead before the story begins or die in some catastrophe shortly thereafter. It's a running joke in our house when our girls start a new book; we automatically assume the main character is being raised by evil headmasters or equally evil distant relatives. It makes for good childhood fiction, adding to the fantasy that they are actually royalty stuck in their present peasant circumstances. But it isn't so much a joke when it plays out in real life. It isn't so much a joke when you see establishments you trust actually trying to remove you in some small way from your child's life.
Don't get me wrong, I don't think the doctor's office was trying to remove us completely; they were just trying to get our child to be more open without us there. They want her and all the other kids they see to be honest with them. They want the truth about their lives so they can help them. But guess what? Guess who else wants the exact same thing? Us. And that is where there is a vast disconnect. They don't see the family as the essential and right place for kids to learn and grow and be sheltered from things that could harm them. They don't see parents as wise and discerning of what is best for their own children. Rather, the doctors in clinics like ours know best. Just like administrators know best in schools where similar forms are passed out to kids without parental knowledge or approval. Just like some government agencies know best.
This form asked our 13 year old daughter if she was having various forms of sex. If she wants information on STDs. If she wants information on birth control. If she has thought about killing herself. If she is doing drugs like meth or ecstasy. If she needs an HIV test. If she has been raped. If her boyfriend is abusing her. If she's done or been exposed to a vast number of other things. What if she said "yes"? And what if she said "yes" when I was out of the room? What then? Do they give her birth control? Do they test her for HIV? Do they talk about drugs and alcohol and suicide and homosexuality and anything else she answered affirmatively on that 58 question form? And would we ever find out about any of it?
What if she did get pregnant? Are they going to raise her baby? What if she did have HIV? Are they going make sure she takes her meds every day? What if she did have a boyfriend who was abusing her? Are they going to intervene before he kills her? What if she killed herself? Are they going to pick up the pieces of our lives? What if she was abused? Are they going to sit and cry with her at 3am when she has nightmares? No. They're not, because they don't know her. She's not theirs. She's ours. They don't love her. We do. So, we get to decide.
We get to be the one to teach her about everything on that form in a way that is appropriate and understandable to her. We get to teach it from a Biblical worldview, explaining everything to her from God's perspective, not current culture. We get to talk to her about sinful choices and their logical consequences. And the fact is, if they really want what's best for kids, they should want that too. That is the way God designed it. He put us in families. And he put us there for good reasons. Yes, there are some really awful and heartbreaking family situations out there. We know that. Many of us have lived that. But that does not usurp God's perfect design of the nuclear family and the fact that it is still the most important factor of human thriving. Despite the many efforts by many ideologies and organizations that believe otherwise.
Some people want the family fractured or destroyed altogether. They don't see it as essential. They don't recognize God's good design. Instead they rebel against it, instituting their own means to ensuring happy and successful lives. They feel their way is better. And we are seeing the tragic results of that in our society now. And what we should be doing is frantically putting the family back into it's ordained, central role, but instead, we are often seeing the opposite. We are seeing things like doctors offices and schools that don't want parents involved. We are seeing courts that side against parents and with county social workers. We are seeing UK hospitals deny parents the right to save their own kids. We are seeing parents too confused or coerced or frightened to intervene. We are seeing Genesis 3 and Romans 1 play out very clearly, all to the detriment of our kids.
I'm against that. I'm against it because God is against it. A conspiracy of us against them? No. A wake up call to be vigilant and speak up. To proclaim God's truth, even if it seems to fall on the deaf ears of a clinic supervisor. Because God uses his truth in the ways he wills, even when we cannot see it.